Teaching Teachers: Your School is a Living, Breathing Learning Lab
What can designers do to help educators and students take full advantage of the opportunities we have created for them across their school campus?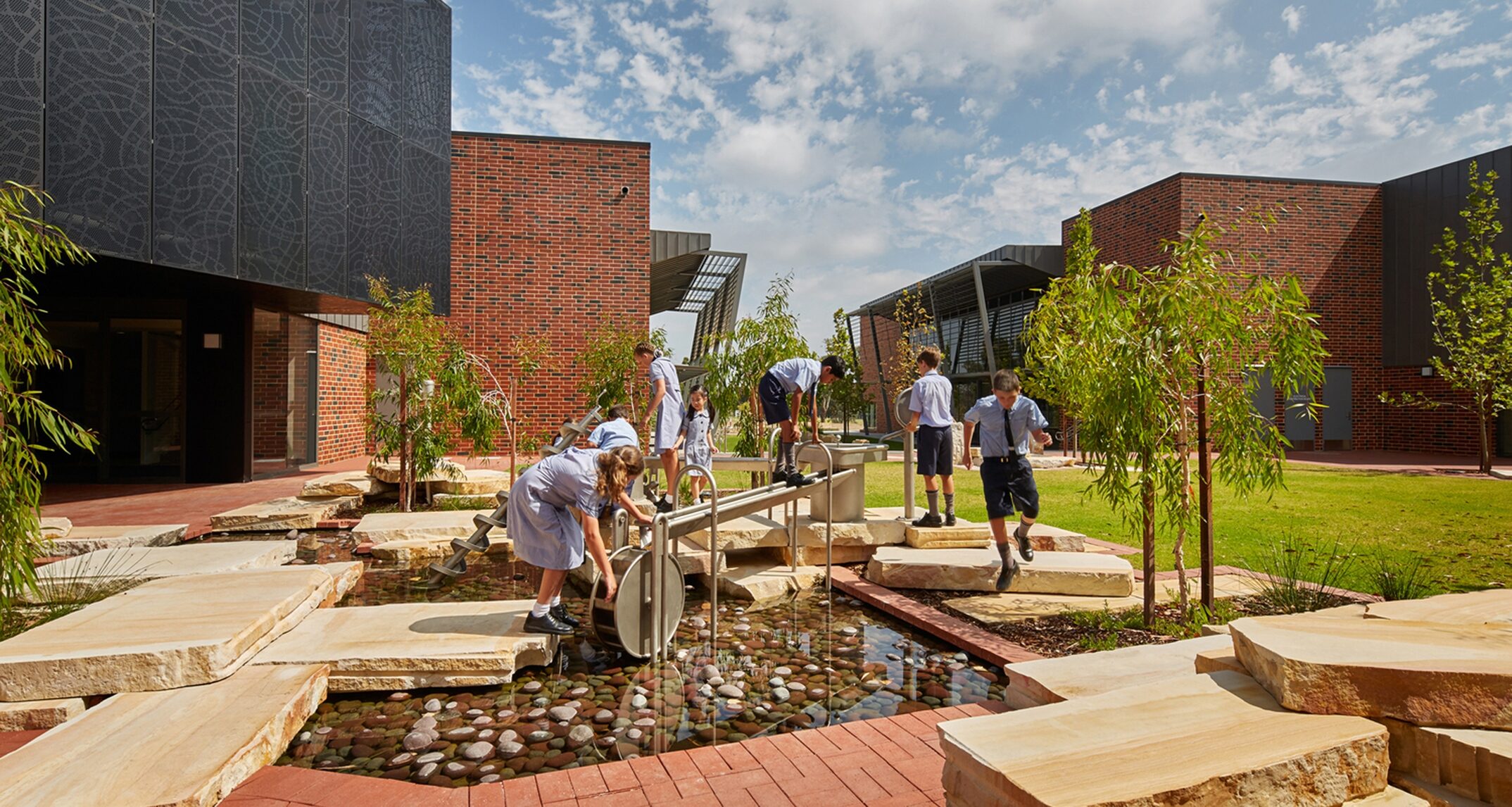 Guildford Grammar PrepSchool - Christou Design Group - photo by Douglas Mark Black
Last February, we shared how physical learning spaces can be designed to assist teachers' creative development as instructors, and further strengthen students' growth and learning. Providing meaningful educational opportunities in a wide variety of settings supports the idea that learning can happen anywhere. What can designers do to help educators and students take full advantage of the opportunities we have created for them across their school campus?
Show Them How It Works
What if every school facility—just like any new appliance or gadget—came equipped with a user's guide, chock-full of information about each of the various technologies and systems that exist in the school and how they work? When done right, a school user's guide can be so much more than a reference tool for facilities staff. If the guide is geared towards teachers, they can better understand the inner workings of their building and site. By recognizing how their facility contributes to creating a healthy environment for both students and staff, they will find abundant opportunities for students to learn from the building itself.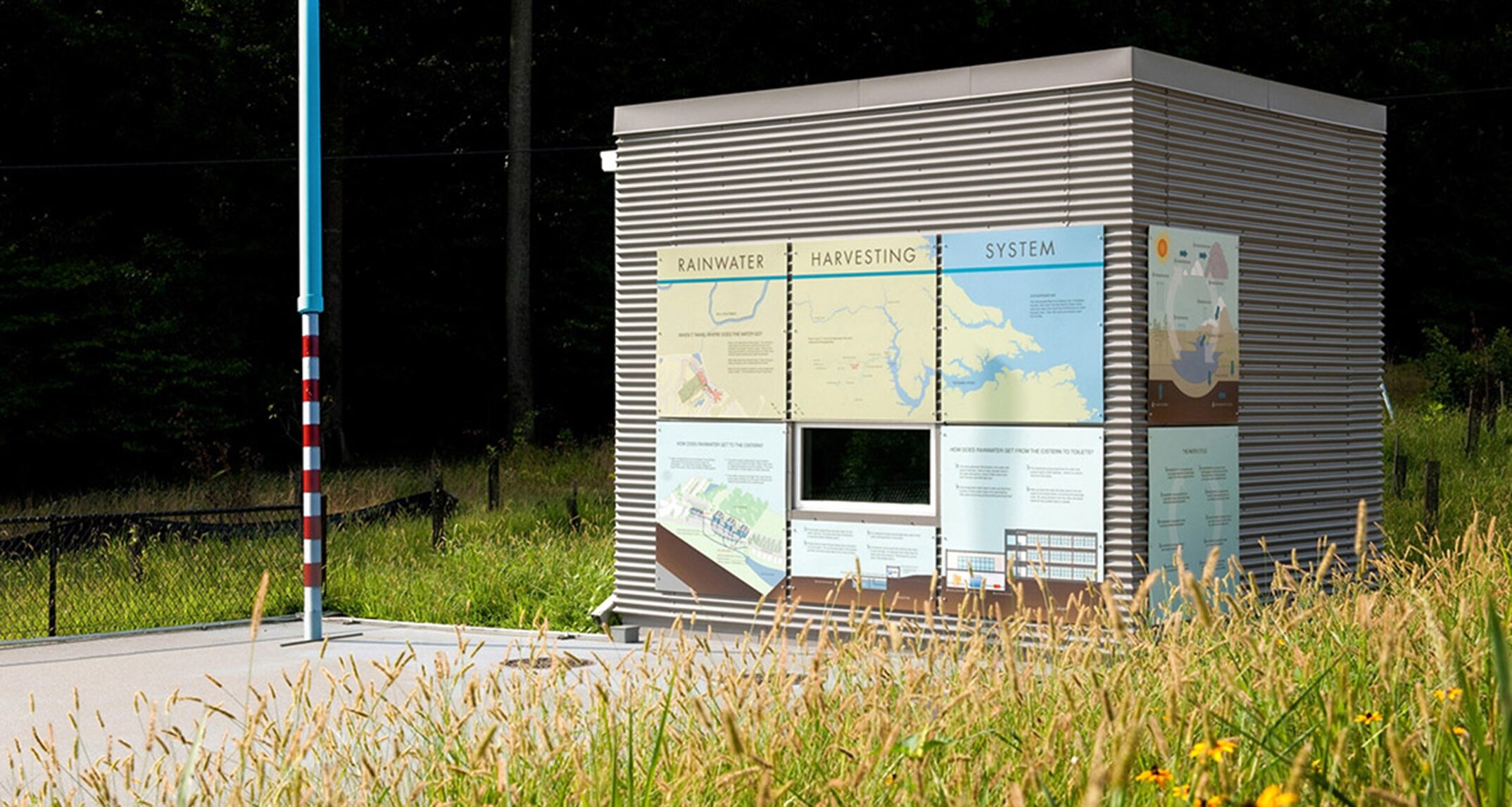 Manassas Park Elementary School utilizes their on-site cistern to teach students about rainwater harvesting. - VMDO Architects
Taking the "Third Teacher" One Step Further
Our job as school planners is to clearly understand the goals of stakeholders—administrators, educators, students, and the community—and interpret their vision and incorporate their specialized curriculum into the building and site design. This allows us to help develop the entire campus as the "third teacher," recognizing that the physical environment is an essential element of learning.1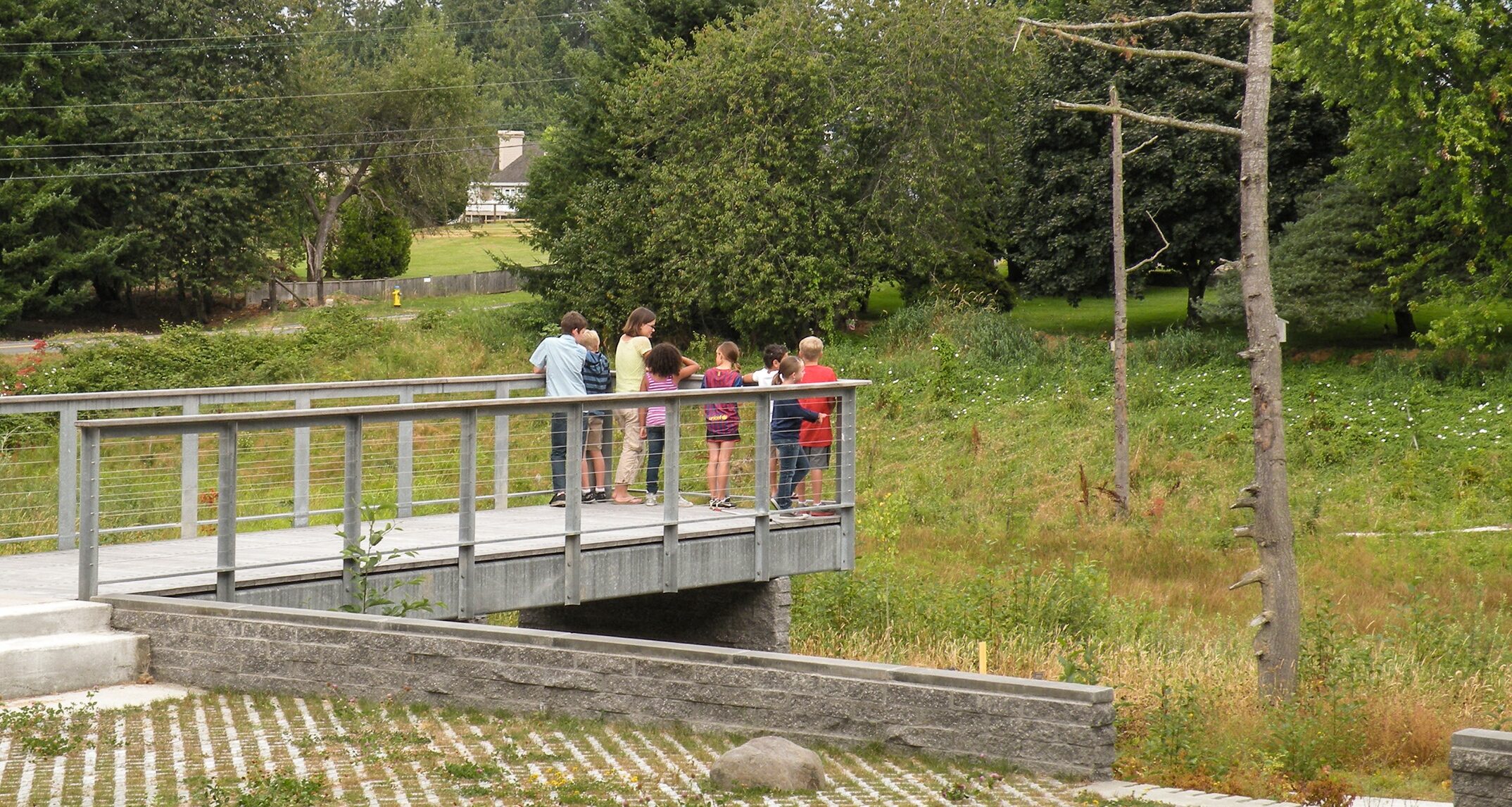 A preserved wetland claims a large portion of Riverview Elementary School's site. Paths and observation areas create learning opportunities that engage students through exploration and play. - NAC
When we are done, rather than simply handing over the keys to the building, we can take the "third teacher" concept a step further, by producing a user's guide that continues to support educators and students long after the school opens its doors. Providing information on how systems and features throughout the school work gives teachers the opportunity to incorporate the building and site into their curriculum.
A User's Guide in Action: Hazel Wolf E-STEM
Developing a pioneering Environmental-STEM program at Seattle Public Schools' Hazel Wolf K-8 School required a design that sought every opportunity to create diverse interior and exterior educational spaces. The tight, 3.2-acre triangular campus was a significant challenge, so careful and deliberate site and building organization was imperative to maximize the use of outdoor areas. As part of the solution, the site extends over the building to provide exterior learning opportunities on the green roof, and double the effective area of the central learning courtyard.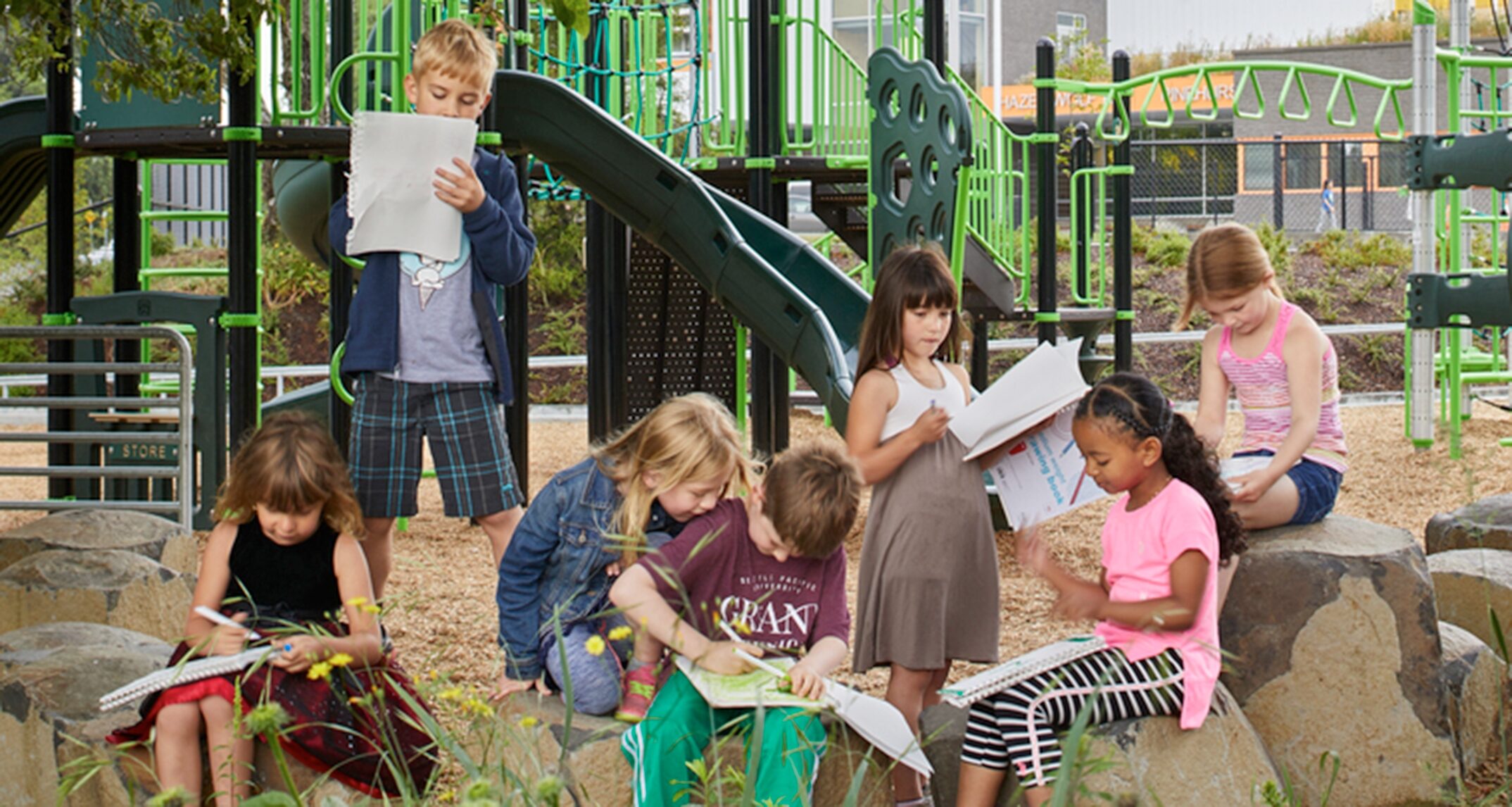 Students bring their science lesson outside with hands-on exploration of Hazel Wolf's butterfly garden. - NAC
Multiple areas of Hazel Wolf's building and site can be used as learning tools. A living wall is the focal point of the school's main entry. A three-story, centralized vertical circulation area features a seismic wall with structural calculations as well as a strata wall showing sections of the earth's crusts. Outside, students can explore a butterfly garden, a botanical garden, and a multipurpose courtyard.
To ensure that educators took full advantage of these unique features to create hands-on learning opportunities for students, we created a digital user's guide for Hazel Wolf. The guide shares some background information on the design thinking behind the school, and provides information about the various technologies and systems used, and how to integrate sustainable features into daily curriculum in a way that staff and students can interact with.
Take a look at Hazel Wolf's digital user's guide.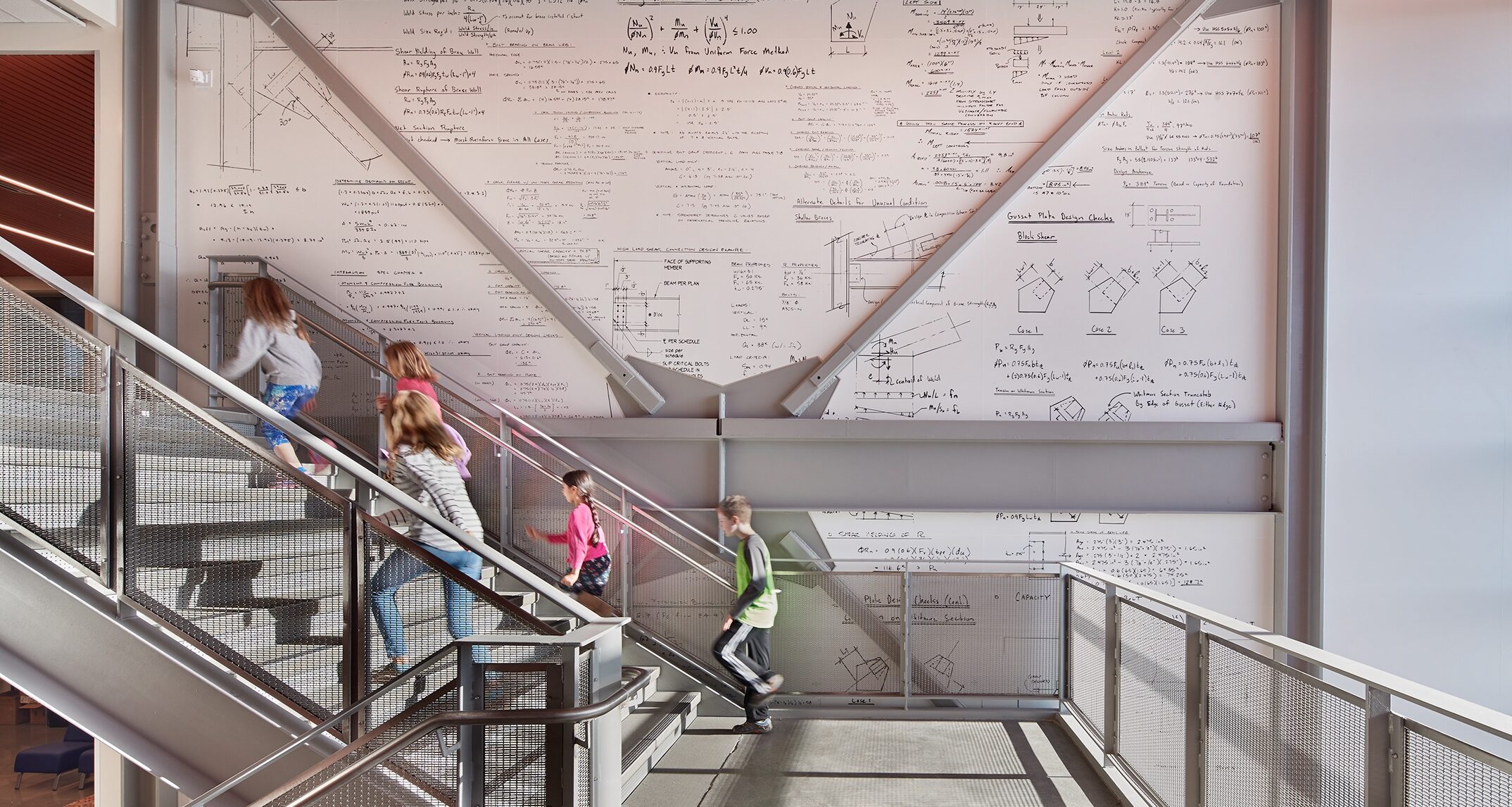 Hazel Wolf's three-story vertical circulation area features a seismic wall with structural calculations and exposed brace frames. - NAC
Conclusion
The design philosophy of school buildings has drastically evolved since the "third teacher" concept first appeared, recognizing the important role the physical environment plays in a child's learning and development. The spaces we create should empower teachers and students, and enhance and inspire curriculum. If educators are meant to understand their students and school better than anyone else, why not prepare them with the tools necessary to support their students' growth and academic success?
We would love to hear your thoughts! Send us an email: NACLab@nacarchitecture.com
References
1 O'Donnell Wicklund Pigozzi and Peterson, Architects Inc., VS Furniture., & Bruce Mau Design. (2010). The third teacher: 79 ways you can use design to transform teaching & learning. New York: Abrams.
---
---