The Built Environment's Impact on Living-Learning Communities
What is the purpose of living-learning communities at MSU, and how are they structured?
"It would be great to have junctures - a hub, an area or even just a little alcove to hangout and talk after class would be ideal." — Amy Snyder, former Assistant Director of Residence Life, Montana State University
In October 2016, NAC Architecture attended the ACUHO-I Living-Learning Programs Conference in Scottsdale, Arizona. The conference focuses on creating and fostering the student affairs/academic affairs partnership and transforming residential environments to engage the students who live and learn in campus communities.
During the conference, NAC's Lauren Scranton spoke with Montana State University's Amy Snyder, who at the time was the Assistant Director of Residence Life, and David Aderholdt, Resident Director of the Headwaters Complex campus housing, on living-learning communities, the influence of the built environment, and the future of the residential experience on college campuses. What follows are highlights from their conversation.
NAC: Can you tell us a little about living-learning communities at MSU — what is their purpose? How are they structured?
Amy Snyder (AS): We have six living-learning communities (LLCs) and will be expanding to seven during the 2017-2018 academic year. The original purpose of the MSU LLC was just to bring students with similar academic interests together on the same floor. However, in the last several years there has been a growing emphasis on building relationships – helping students get to know their peers, their faculty, their college – while still helping them feel connected to their academic major.
This change in purpose is due to the fact that seventy-five percent of the students we house are first-year students. This puts even more of an emphasis on facilitating peer-to-peer, and peer-to-faculty connections. That's because integration into the campus community is an important predictor of retention, and first-year students are at the greatest risk of attrition. Research consistently indicates that of all the entering baccalaureate degree students who will drop out over a five-year period, one-half will do so before the start of their second year. Our purpose is pretty straight forward; we want to maintain those connections so that retention to the University is at the core of what we do. Retention is where our purpose lies.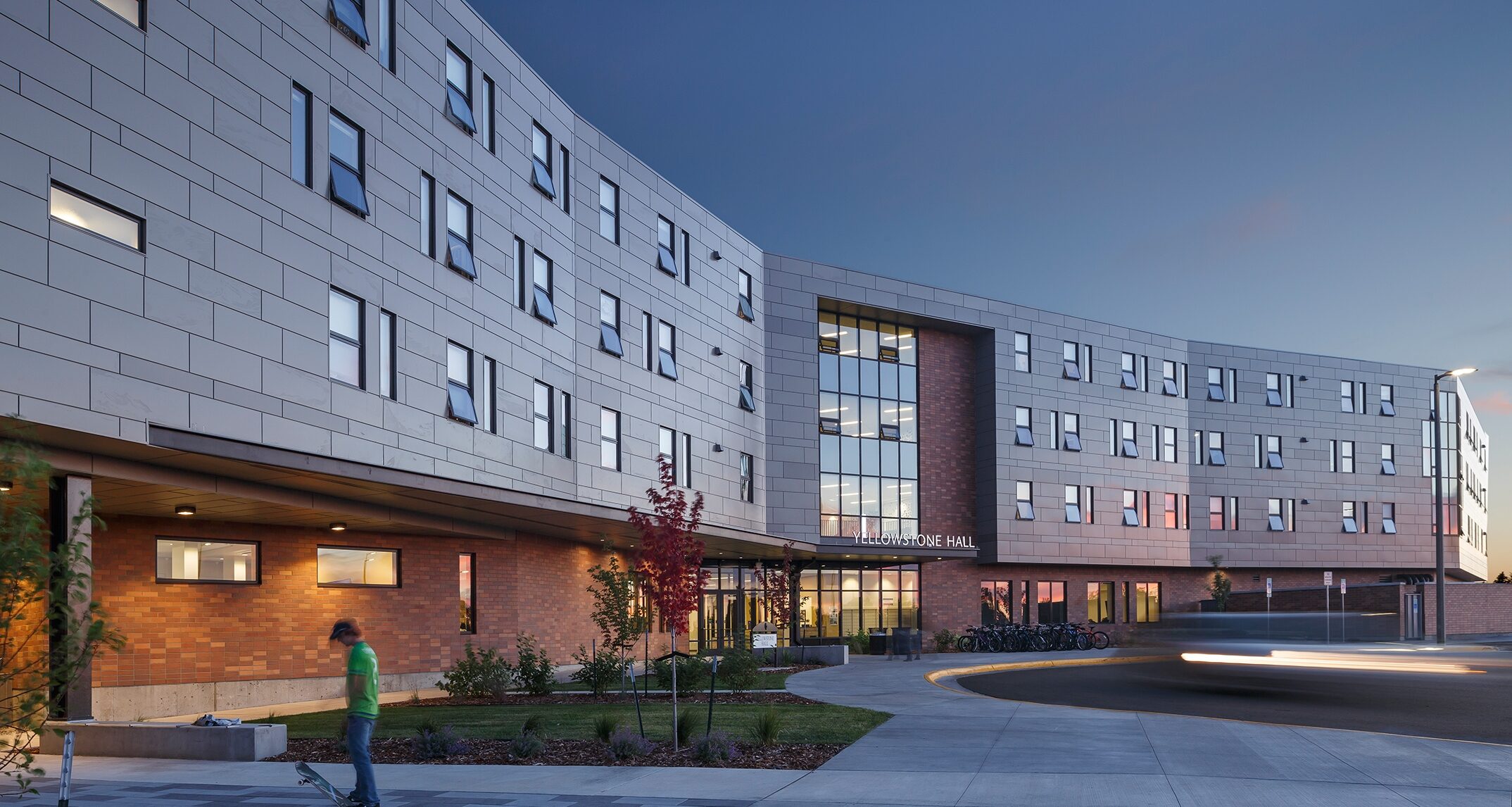 Opened in 2016, MSU's Yellowstone Hall was the first freshman residence facility built on campus in nearly 50 years. For the majority of incoming freshman, this is their first time living away from home; as a result, the design of Yellowstone helps students connect and build a community of peers.
What does programming look like in your LLCs?
David Aderholdt (DA): Having the goal of retention really helps us target our programming. Take for instance the Business Living-Learning Community. The purpose of this community is to provide career exploration and exposure to the various majors/minors within the field of business. In addition to connecting students with business faculty and local business leaders we also try to help them explore their options with internships, externships and even academic advising. These programs occur both inside the hall (such as having faculty members eat a meal with students on the LLC floor) and outside the hall. Ultimately, we do our best to keep students "in the know," providing access to additional resources that aid their ability to navigate through college procedures and external stressors so that they are more likely to persist through to degree completion.
Most of our LLCs are housed in our traditional high-rise buildings which have double-loaded corridors, bathrooms in the center, etc. We find that these older buildings can sometimes limit what we do.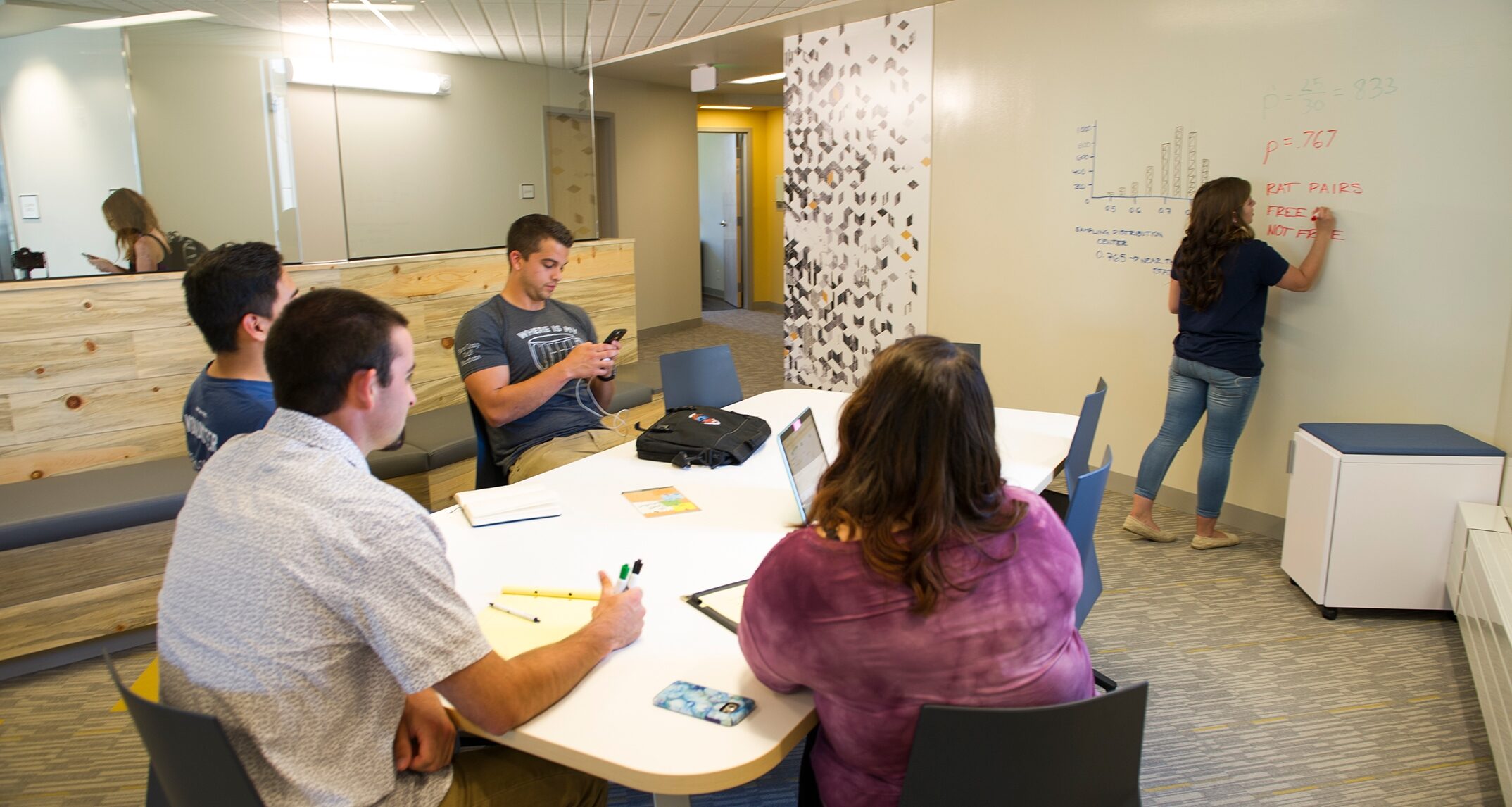 Each floor of Yellowstone Hall features a study space with dry erase walls and technology hookups that allow students to collaborate on group projects or study outside of the classroom. Photo by Kelly Gorham.
Interesting. Can you give us a few examples of what you have observed?
DA: Take for instance our co-ed honors LLC on one of the floors in our South Hedges residence hall. We recently remodeled space in the basement of the building in order to provide a classroom and conference room. Students in that LLC take an honors-only course that's now taught in the residence hall classroom. There is a lot of value in that – students stay in the space long after the faculty member leaves, continuing conversation from the class because they don't have to go anywhere, because they're already home.
AS: In some residence halls the bathroom is in the center of the hall, in those halls there is no such thing as "across the hall" because you can't see across the hall. It inhibits building community. It would be great to have junctures — a hub, an area or even just a little alcove to hangout and talk after class would be ideal.
DA: It would be so cool for students to be able to open their doors and see any program associated with their LLC happening right there. Features where it's glass fronted so it's "see-through learning," which reinforces positive activities (social or academic). It makes students feel like they're a part of something because they can see something going on.
AS: What door students choose to walk out of, what hallways they're going through, it matters – they either know about what's going on or not because of the built environment and whether or not the building creates transparency or obscurity.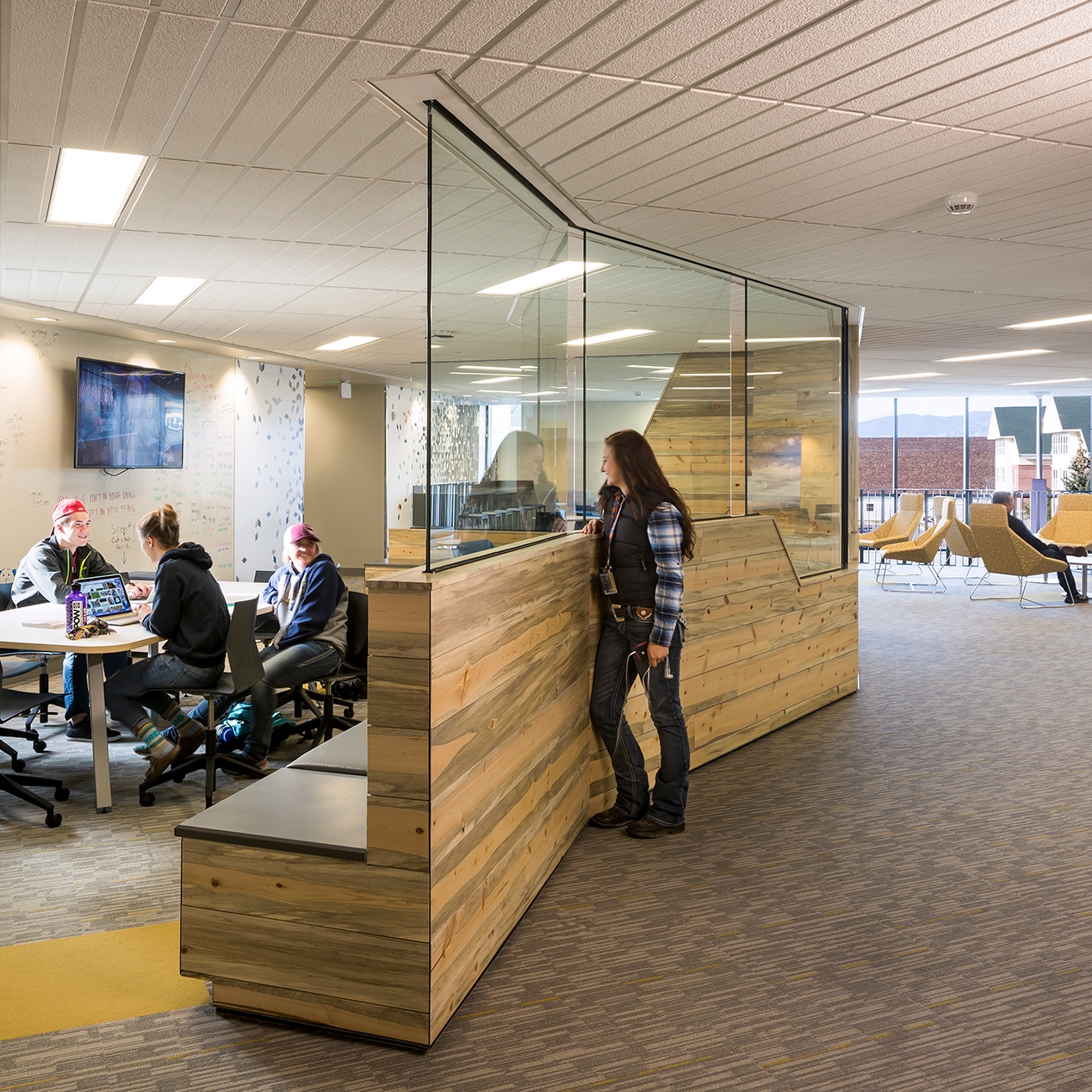 Smaller spaces within each floor's shared community area are separated by large glass partitions, which allow students passing by to observe their peers socializing or studying.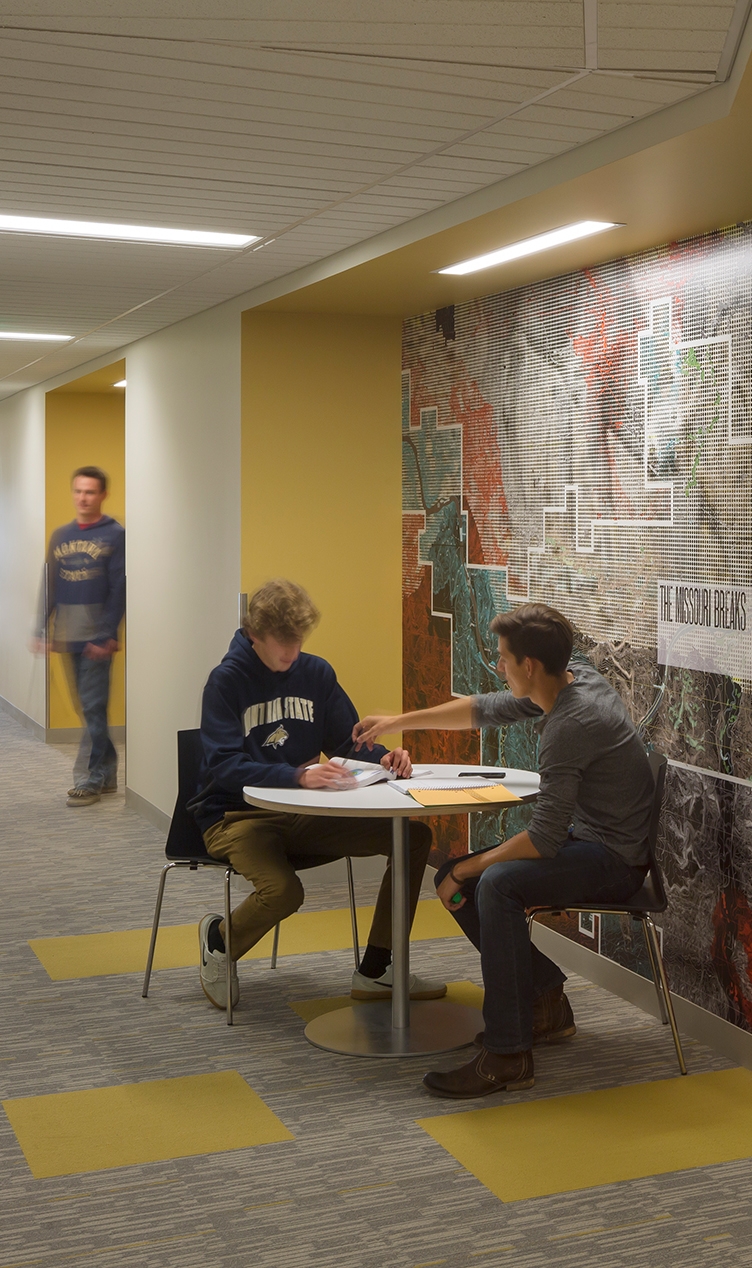 The wide corridors at Yellowstone Hall provide additional room for students to interact and socialize.
What are you hearing from students – what do they want to see in a residence hall?
AS: In Yellowstone Hall, students are meeting people as they go down the grand stairwell. There's a lot of positive interaction happening there. Students also like "nooks" to balance out the grandiosity of something like the large stairwell, somewhere they can find a moment of respite.
Our students love the dynamic of having that hub as well as the wide corridors. There's gathering that's happening in that corridor – they like that they don't have to necessarily be in someone's room. They often call the hallway the "street." They love having the kitchens on the first floors where they can see people cooking.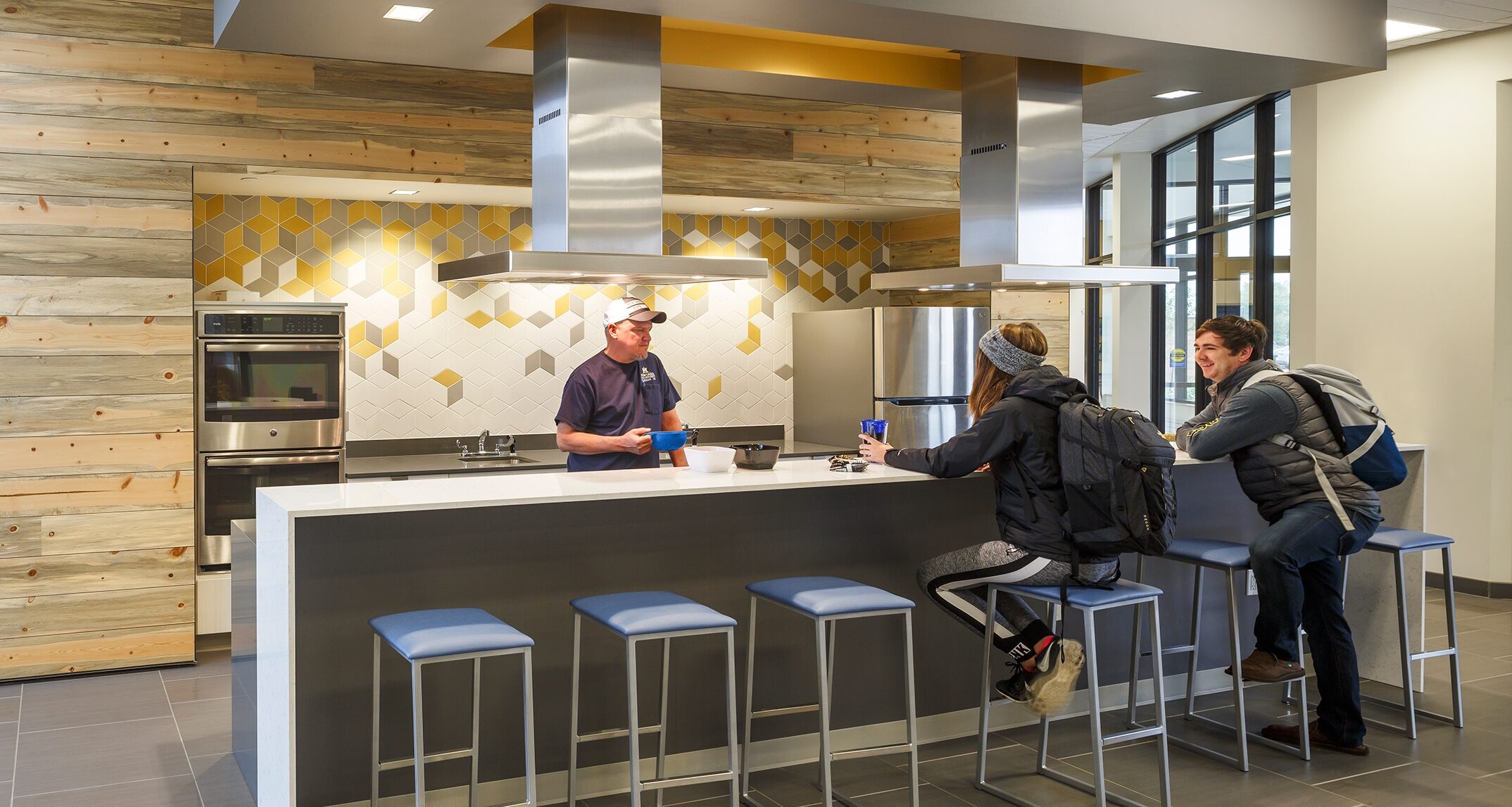 A large community kitchen located just off the main lobby gives students an opportunity to cook and share meals with each other, and meet residents from other floors that they might not see on a regular basis.
Looking forward, what do you think the residential experience will look like in 2030? What will likely influence (good or bad) residential life?
AS: I was in grad school about 15 years ago and I remember being asked that exact question and now you're asking it again. It's nothing like what I imagined back then. I am old school at heart. Despite the current and anticipated changes in the way we connect, becoming more digital in nature, we need spaces where people can physically "bump" into each other in our buildings. There will still be a residential experience just because of the dynamic of being 18 to 24 and being away from home for the first time. I believe in the importance of human interaction.
DA: It's difficult to predict what's to come in 5 to 10 years because technology is changing so fast. What we need to do is be flexible so we can change with it in a cost-effective way. Social media might influence interaction and a student's sense of belonging. I could see using technology to allow students to monitor sustainability efforts (re: electrical use). Or maybe we'll see students using a Fitbit app to see how many steps the whole hall is taking in a day and use a monitor to show everyone.
AS: One day, maybe students will be able to say "I can tell my friend came home not because they told me but because there is some sort of proximity indicator" – or say that they know when the kitchen and laundry rooms are available without having to walk down to them. Are there showers available? Is the dining hall busy? It's all about efficiencies. When we talk about the next generation coming into college, efficiency and using technology to create a frictionless experience is a part of the conversation. This will likely impact the academic experience, too. I think students are going to be doing a whole lot more from the perspective of classes happening from their room. I could see how more seamlessly integrating aspects of online education into the residential experience so students don't have to leave their room in inclement weather.
Ultimately, for us at MSU, I could see a renewed focus on getting students away and "unplugging" as their experience gets more digital. It will almost kind of be getting back to nature and getting a connection to the outdoors.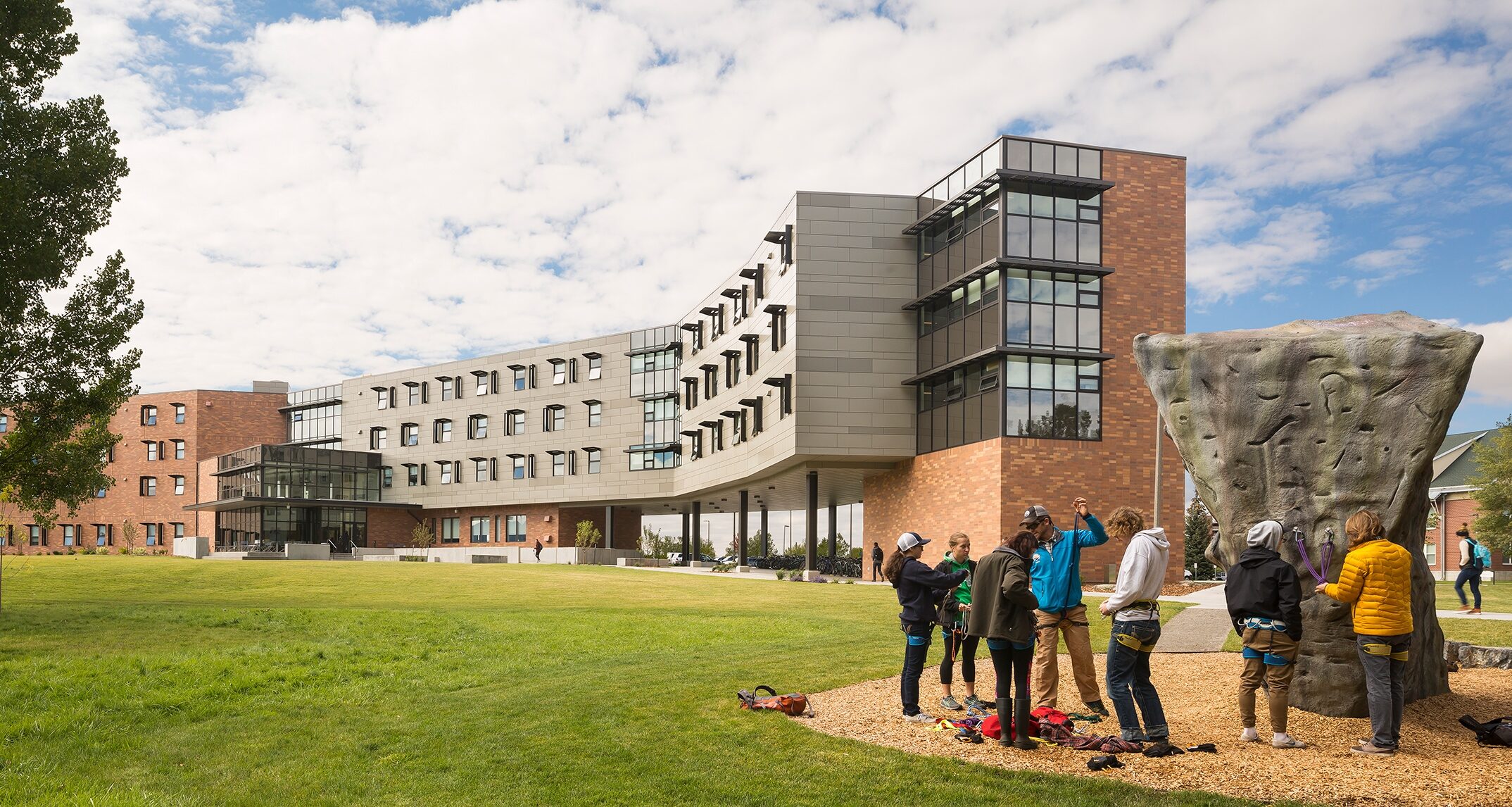 A pedestrian pass-through at Yellowstone Hall leads to a recreation area located behind the building. This provides both a visual and physical connection for students to take advantage of their "backyard," inviting them to get outside and play.
DA: The hyper-connected experience is going to be what our students who are coming here will have lived up to this point; it will be all they've known. Today, they all grow up with Internet. It is how they connect with their peers.
AS: IoT is the direction we're going to be headed, even though it's a little minority report-ish. I can foresee students entering in their interests at the beginning of the school year and walk into a residence hall and those are the ads they see outside your door (for instance, about the kayaking trip, pool race in rafts – all things catered toward the student).
Located in the city of Bozeman, Montana State University (MSU) is the state's largest university. A land-grant institution, the campus culture is marked by the inclusive mission on which the institution was founded, and the sense of adventure that the Big Sky country evokes. Over 16,000 students can choose from 200 academic programs that integrate learning, discovery and engagement. Learn more here.
David Aderholdt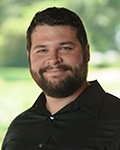 Originally from San Diego, CA, David completed his bachelor's degree in Cell Biology and Neuroscience from Montana State University in the spring of 2013. He is entering his fifth year as a part of MSU's Residence Life program. In addition to his role as Resident Director, David is also the university's Coordinator of Academic Initiatives and Diversity. He is currently pursuing his master's in adult and higher education.
Amy Snyder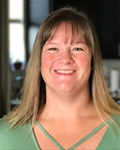 Amy has been working in residence life and housing for more than 20 years, starting as a Residence Advisor and working her way up to her current role as Director of Student Housing and Residential Life at the University of Houston-Clear Lake. She is passionate about creating on-campus communities that help students find a sense of belonging, and inspires them to grow and achieve their goals.
---