The Growing Demand for Early Childhood Education
Why are early learning centers important to growth and development?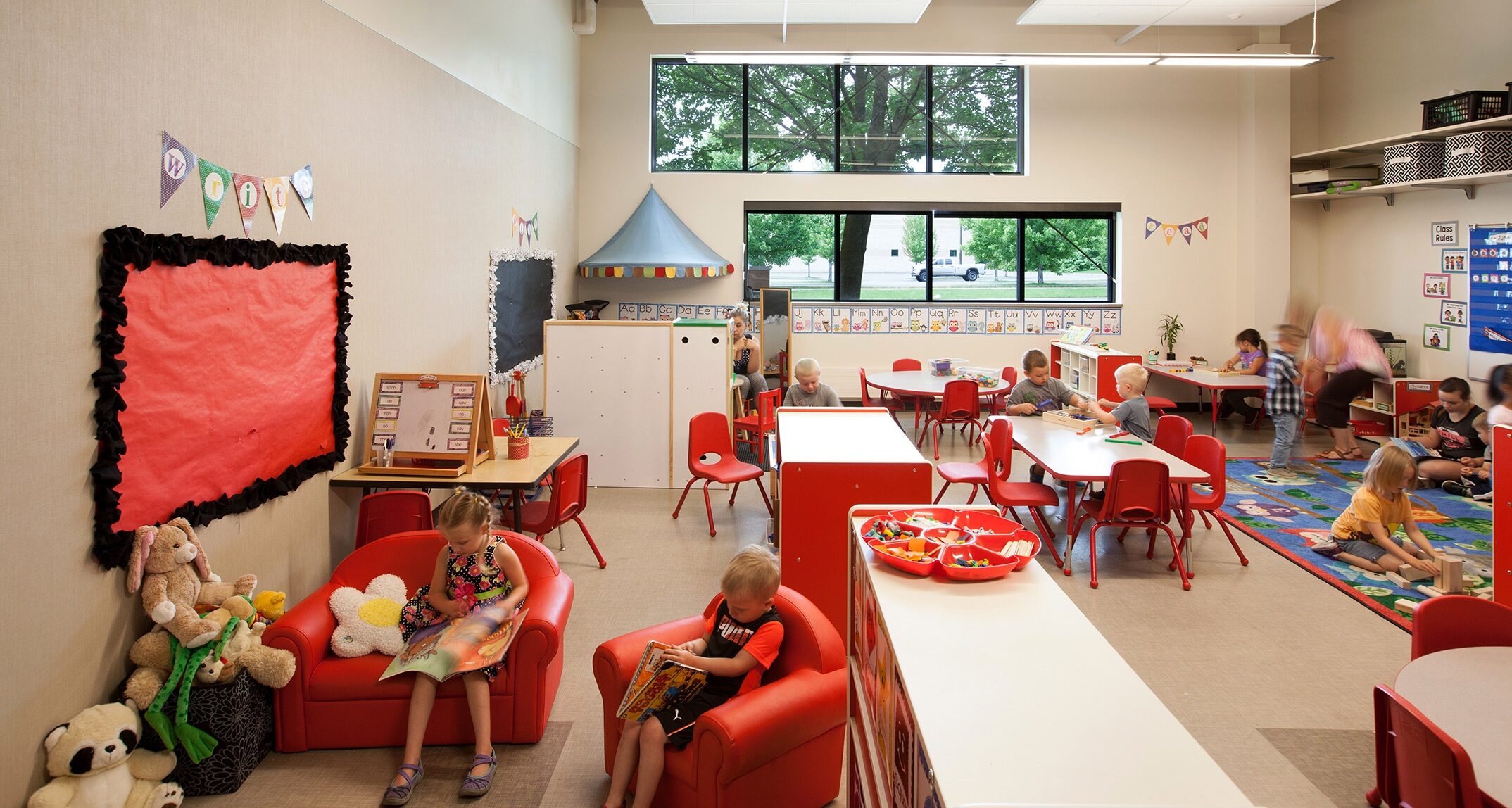 As the body of research on the effectiveness of early learning centers continues to grow, the value in designing more of these institutions has become increasingly apparent. Recent research estimates that the brain grows the most in the first five years of life, thus programs directed at this age demographic have proved to yield astonishing results.1,2
When the design of early learning centers is grounded in the science of developmental psychology and education, these educational environments can address multiple domains of development that positively stimulate young children's physical and cognitive growth. These high-quality early childhood programs and centers produce lasting increases in positive academic achievement that set the students up for success as they move into the K-12 educational environment and beyond. They are also more likely to develop students' social competence traits—such as sharing, cooperating, or helping other kids—competencies that lead to a higher likelihood of attaining higher education and well-paying jobs in adulthood.3
Why are ELCs so important?
There is an incredible amount of recent research in brain development and early learning. Studies show the earlier kids are enrolled in early education the chances of them dropping out of high school diminishes and enrollment in higher education increases. Children who participate in quality preschool programs are:
18 percent more likely to be employed
24 percent more likely to own a house
53 percent less likely to have multiple arrests
More likely to make higher earnings than those who do not participate4
A 20-year retrospective study found that for every one-point increase in a child's social competency score in kindergarten, they were twice as likely to obtain a college degree, and 46% more likely to have a full-time job by age 25. And, for every one-point decrease in a child's social skill score in kindergarten, he or she had a 67% higher chance of having been arrested in early adulthood, a 52% higher rate of binge drinking and an 82% higher chance of being in or on a waiting list for public housing.5
However, leveraging what we are learning from science and ensuring positive brain development is not the only appeal to instituting early learning centers. The Childcare Quality & Early Learning Center for Research and Professional Development (CQEL) is one of the many programs leading the way with early childhood research, examining how to improve and support existing early learning standards and programs in an effort to ensure truly equal access to education. Low family income, low parent education, and language barriers can all be factors in preventing a child's academic success but CQEL is committed to mitigating these obstacles and closing the achievement gap. Research continues to emphasize the importance of early intervention as the most predictable tool to redirect a student's educational career.
Children facing challenges from lower income, to immigrant families, to children with development delays likely experience the greatest benefit from this educational experience. We've seen it first-hand at the Central Valley Early Learning Center. We started with a vacant grocery store and transformed it into a school that supports a wide variety of pre-K students, primarily underserved students and their families. Their incredible journey is documented in this video.
10 Essential Characteristics of High Quality Early Learning Environments
Higher staff to student ratios. At the early learning level, particularly for those qualifying for the Early Childhood Education and Assistance Program (ECEAP) or Head Start programs, it's not only about educating the student; it's about educating the whole family. Providing resources and support to navigate supplemental assistance programs for the improvement of the entire family are core principles of early childhood education programs. This increased staff-to-student ratio and the promotion of family engagement in the facility translates to the need for additional parking on the site compared to most elementary schools.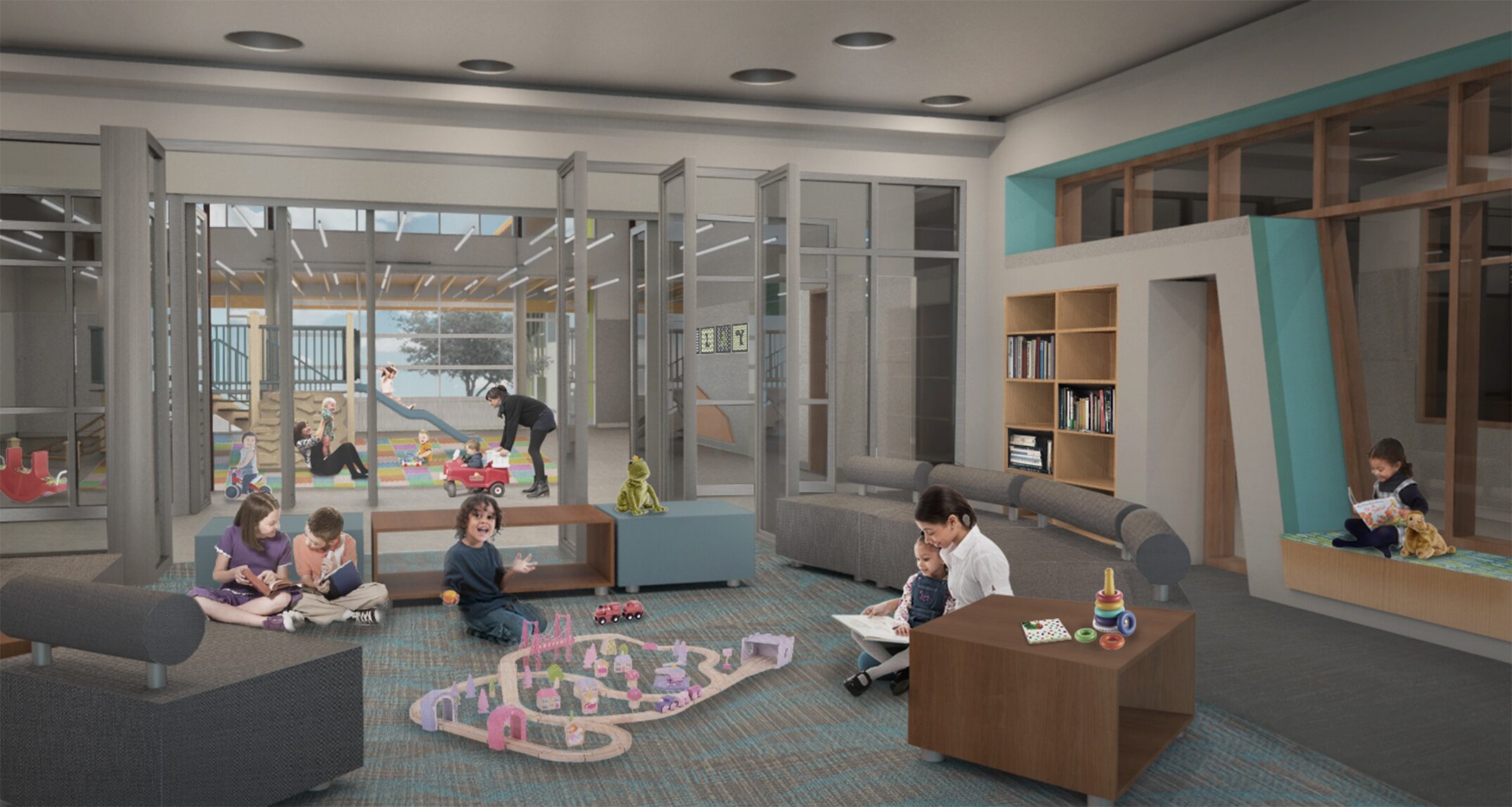 At the Lake Stevens Early Learning Center, parents can spend time in the 'living room' with their child before school, learn more about their children's classrooms and teachers, and meet and talk with other families. It's also a community resource where the whole family is being tutored in nutrition, funding and subsidies, home business, and other events and training throughout the year. — NAC
Increased Office/Conference Room Space. The administrative suite has two separate functions: running the school (similar to an elementary school) and a family support component (not typically in an elementary school). In addition to the typical office and meeting space within an elementary school, the family support staff and increased therapy specialists in an ELC require additional office space and conference rooms for working with students and meeting with each family.
Curriculum Mandates and Spatial Organization. The facility design is part of the scoring process for many curriculum requirements mandated by various licensing jurisdictions such as the Department of Early Learning and, if designed well, will contribute to the score. At Central Valley Early Learning Center, most of their curriculum is delivered in their classrooms and licensing requires students have the choice of a minimum of nine activities during free choice time. These activities also must vary throughout the year, with the classroom designed to support this wide array of activities, from areas for quiet reading, to sensory activities with water or sand, to dramatic play, to building blocks. As early learning experts, our role is not only to design the facilities to accommodate multiple activities, but also to work with the teacher on how the design of the classroom can enhance their ability to work with each student.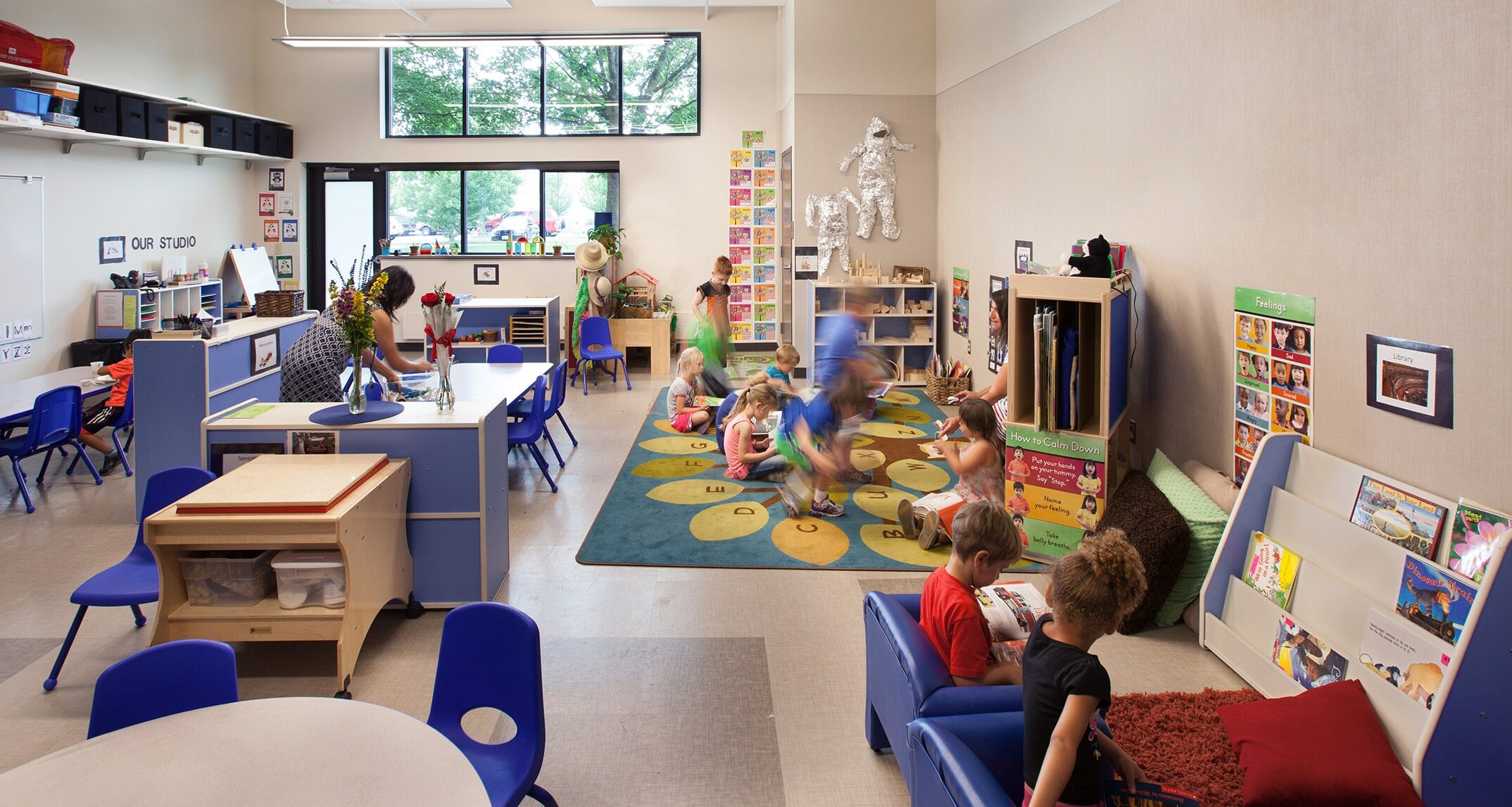 Communal spaces at Central Valley Early Learning Center enable teachers to observe the activities from a distance, while allowing students to exercise choice, build independence, and create a sense of ownership. — NAC
Storage, Storage, Storage. With all the required activities in the classroom you need room to store all the supplies, furniture, mats, etc. Personal items like coats and backpacks are stored outside the classroom. That way, cubbies can be eliminated from inside of the classrooms allowing more space for educational activities.
Toilet/Sink versus Student/Staff Ratios. One of the primary drivers to the number of students allowed within each classroom is the number of toilet and sink fixtures: 1 water closet and hand wash station per 15 kids. This is out of sync with most adult-to-student ratios of one adult per ten kids, with a typical classroom targeting between 15-18 kids. Understanding these differing ratios is critical to maximizing fixture count to serve the targeted number of students, and avoid limiting a classroom capacity because these numbers are not in alignment.

Small children need more supervision, so having a bathroom accessed directly from their space is an important consideration. Efficient toilet and sink layout allows for more time to be spent on educational activities and less time standing in line waiting for a turn to wash hands.

Outdoor Play and Connection to Nature. Access to the outdoors is essential because at this age children learn through playing. Introducing a variety of interactive, sensory-rich activities in an outdoor learning environment provides access to the outdoors that many of the students may not have at home. Early experiences with the natural world have been positively linked with the development of imagination and the sense of wonder, not just gross motor skill development, so outdoor play is especially important for children with special needs.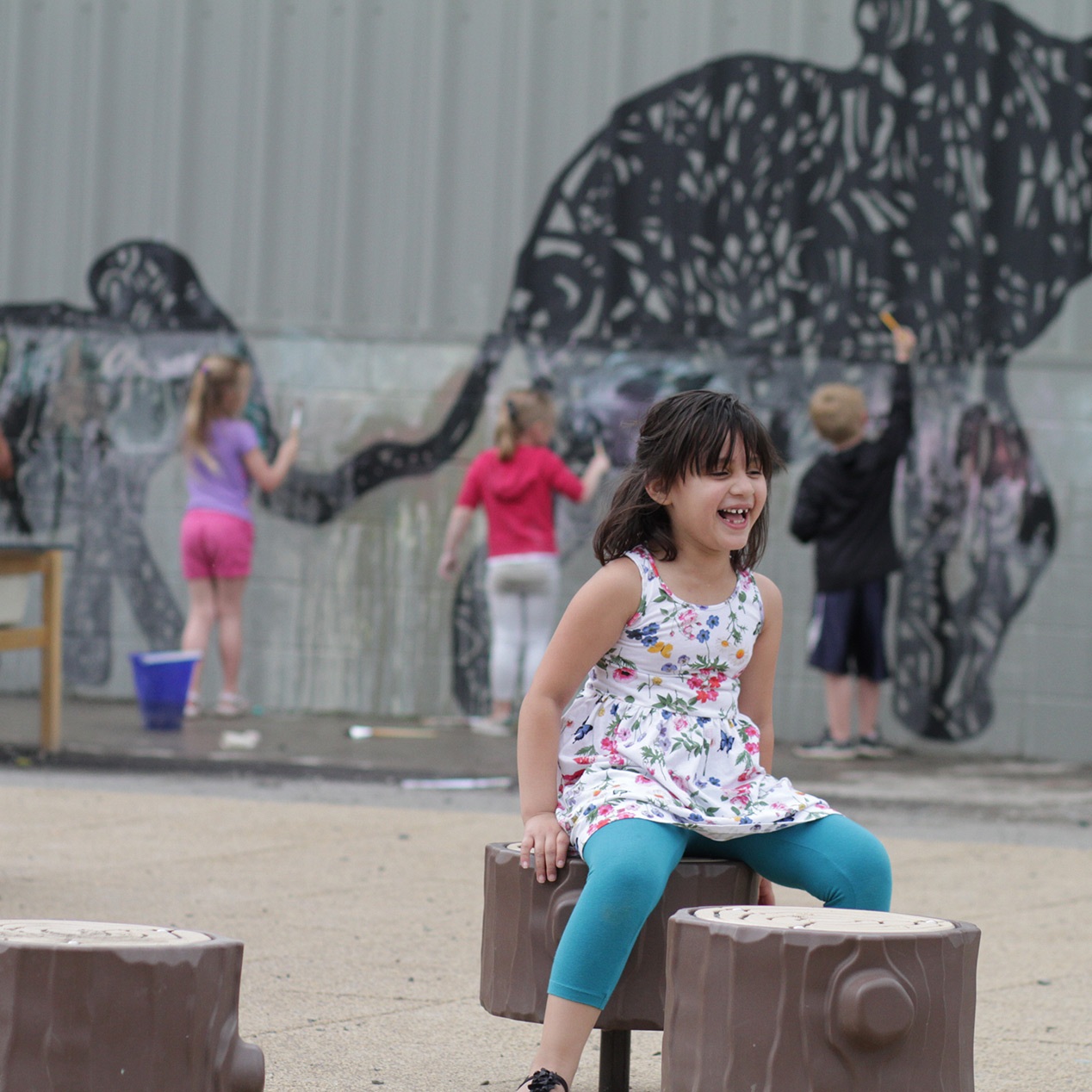 At Central Valley Early Learning Center, play is their work, and they work hard! — NAC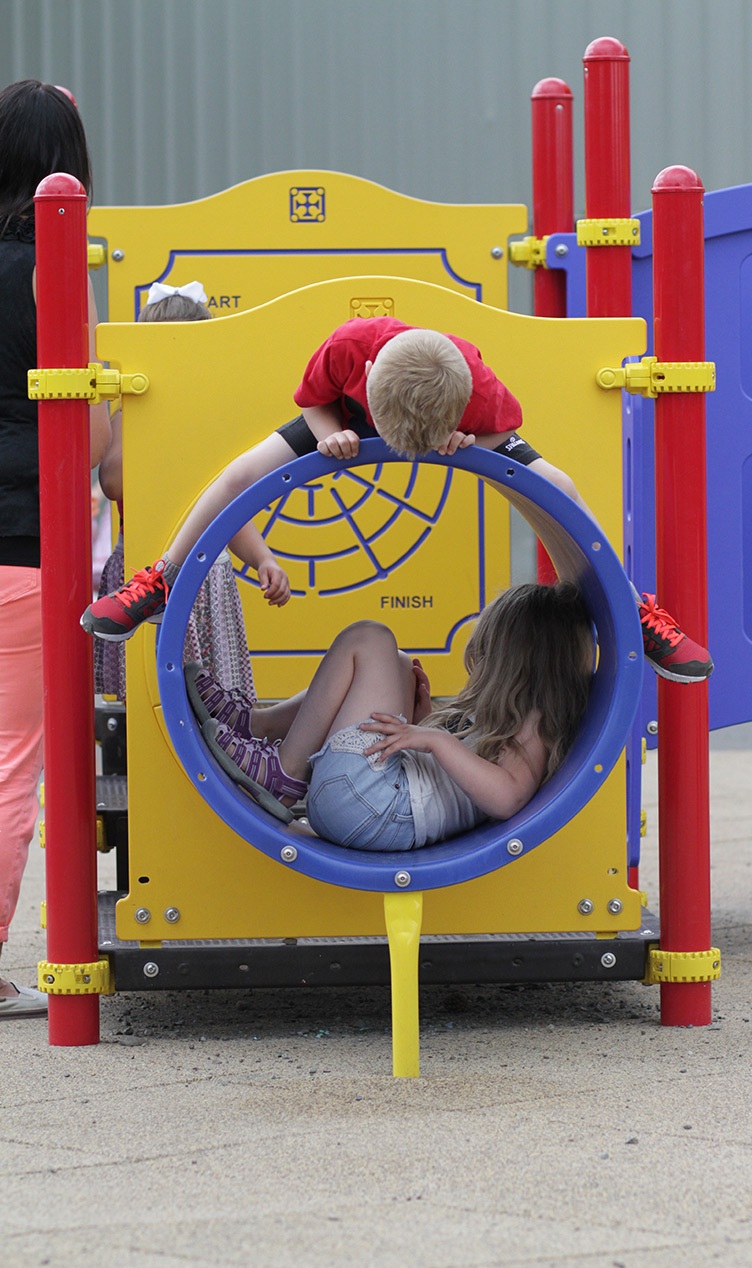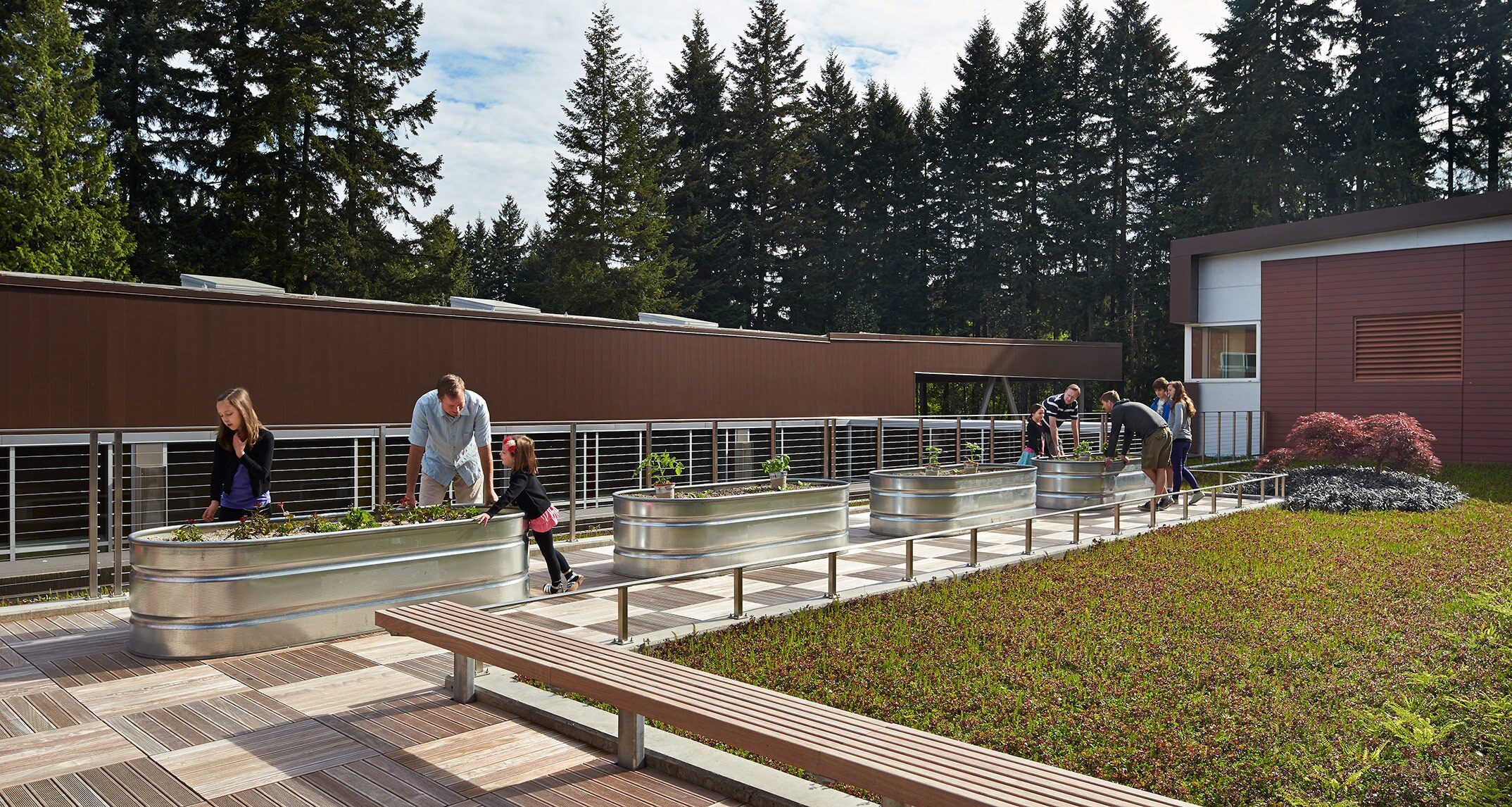 At the Cherry Crest ELC, teachers use nature as a teaching tool. These raised gardens help children learn by physically interacting with nature, provoking them to ask "why" questions and activating different senses. — NAC
Food Service. Students eat within their room, family style. Learning how to navigate meals in a group setting is critical to social development.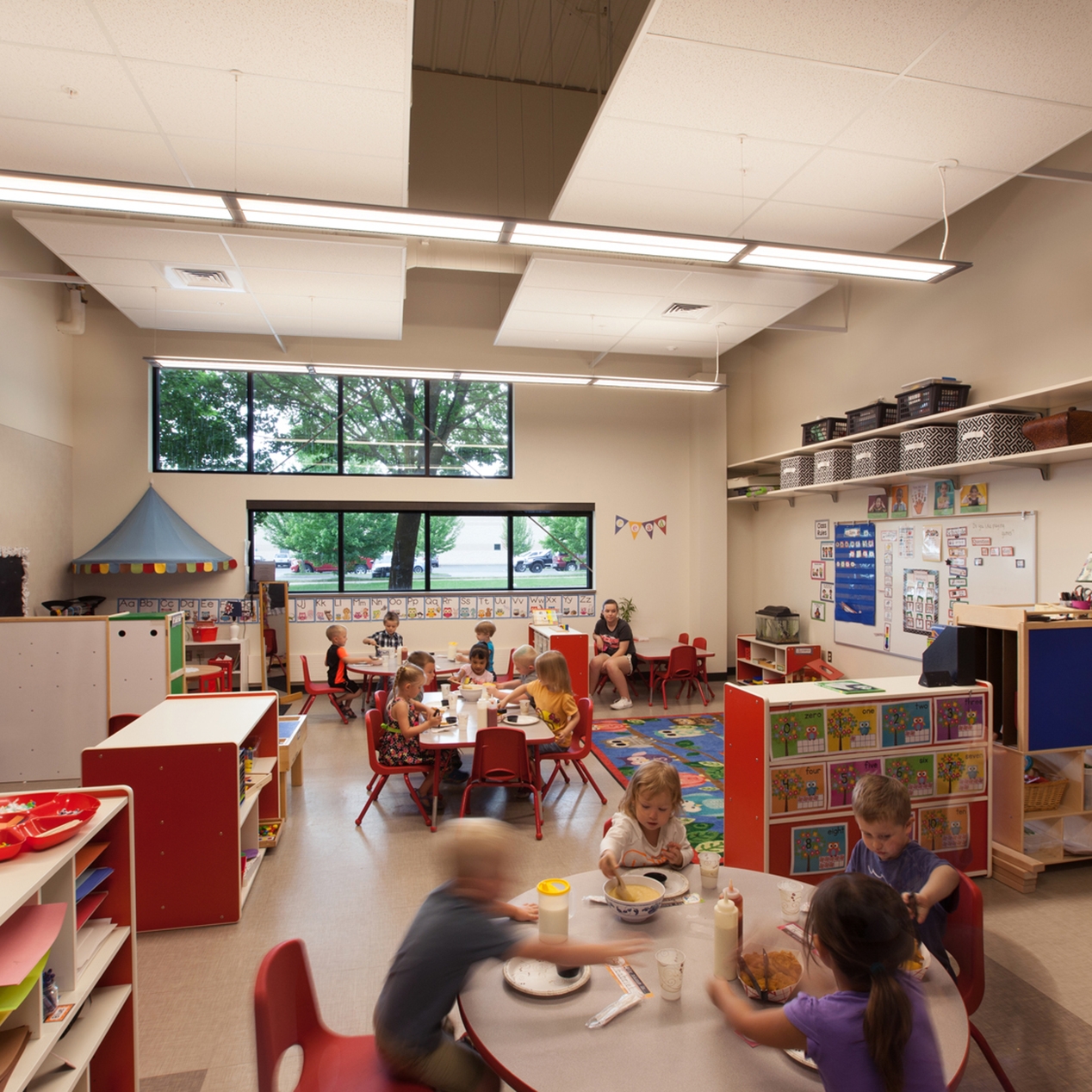 Central Valley Early Learning Center — NAC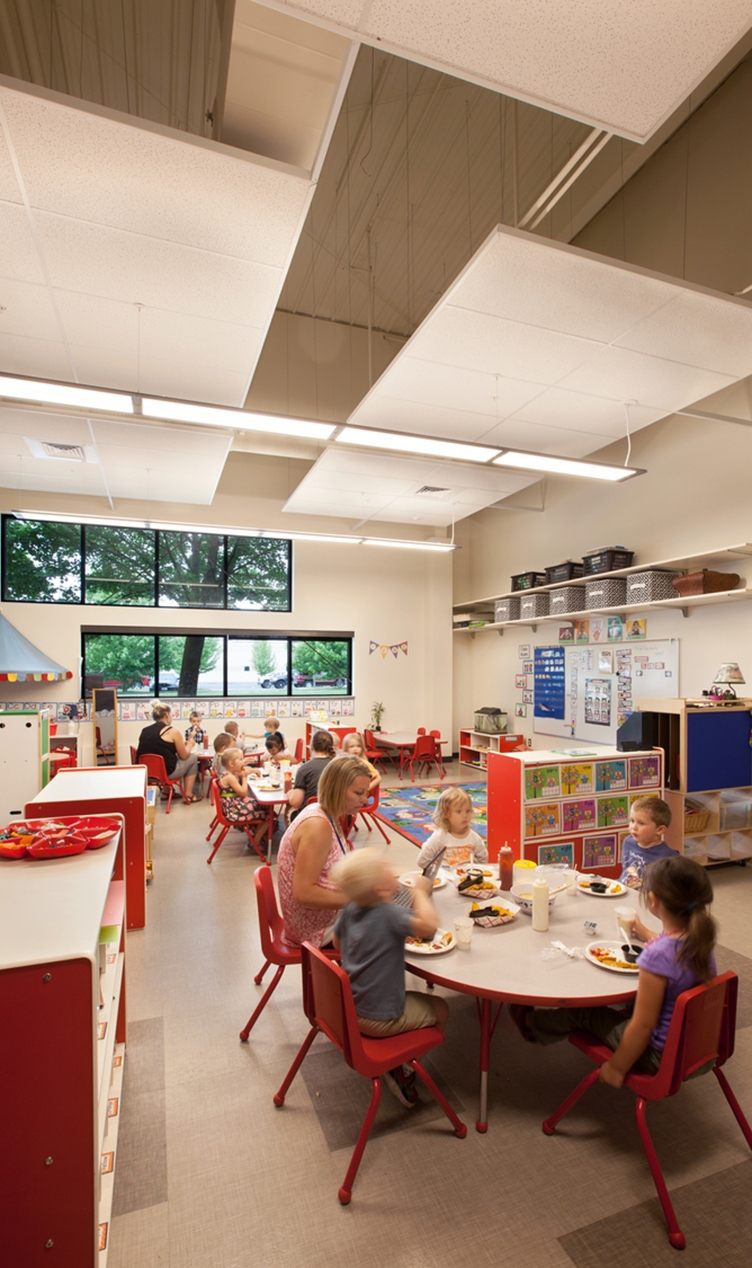 Special Needs. You should design the entire center with special needs in mind and consider lighting quality, acoustics, and materials for safety. The types of materials used in spaces are extremely important for creating emotional and physical interaction. Kids learn through all their senses, but touch is considered the most influential for children under the age of three. Thus thoughtful selection of materials that children can interact with while also holding up over time is imperative.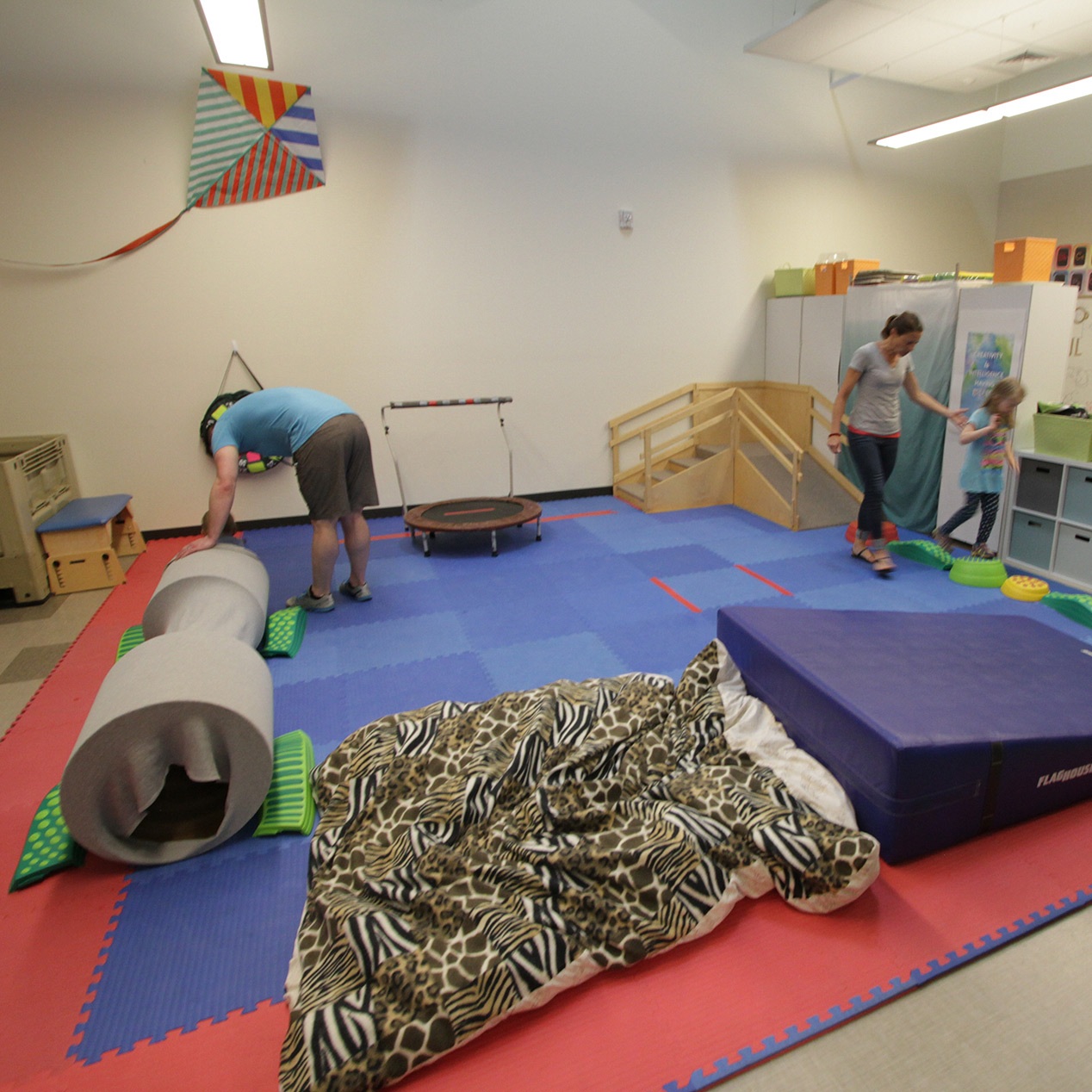 Students with smaller development gaps can overcome speech, learning, and behavioral impediments with occupational therapy rooms. — NAC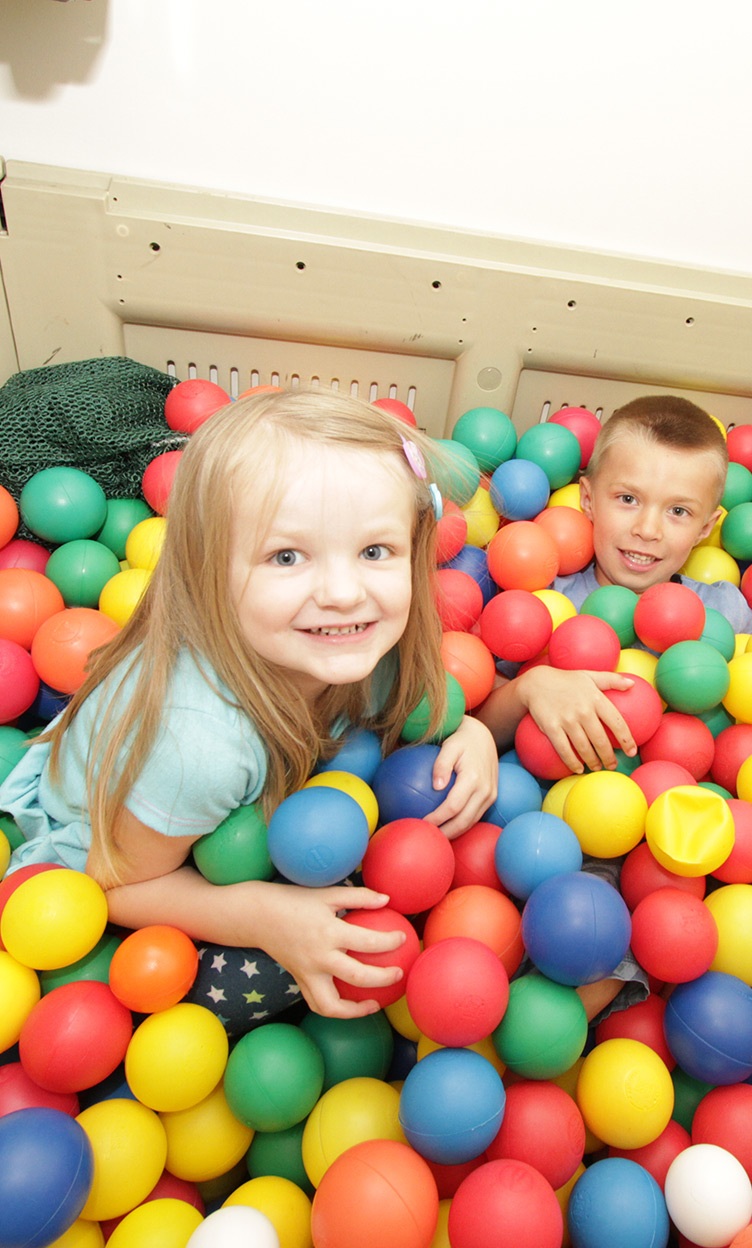 Multi-use Spaces, Shared Spaces, and Flexibility. Many ELCs are co-located at the same campus as elementary schools allowing for shared facilities. Others have 'wrap around care' which means they accept children from 0-3. For this age group, additional spaces are needed to change diapers, crib rooms, storage for sleeping mats, etc. Classrooms can potentially serve multiple age groups, but there are distinct differences for licensing and building code restrictions for children under the age of three versus children between ages 3-6.

Flexibility of space, an essential feature in any ELC, is exemplified in the 680-student Central Valley Early Learning Center which is housed in a former vacant grocery store along with a 300-student alternative high school, Mica Peak—representing both ends of the PK-12 educational spectrum. Intentional crossover spaces encourage the two programs to build off each other. High school students get credit for working with ELC students. High school art students paint murals for the early learning students and together they build gardens that develop confidence for all students. The symbiotic relationship of these programs is facilitated by the building design, creating opportunities that previously did not exist.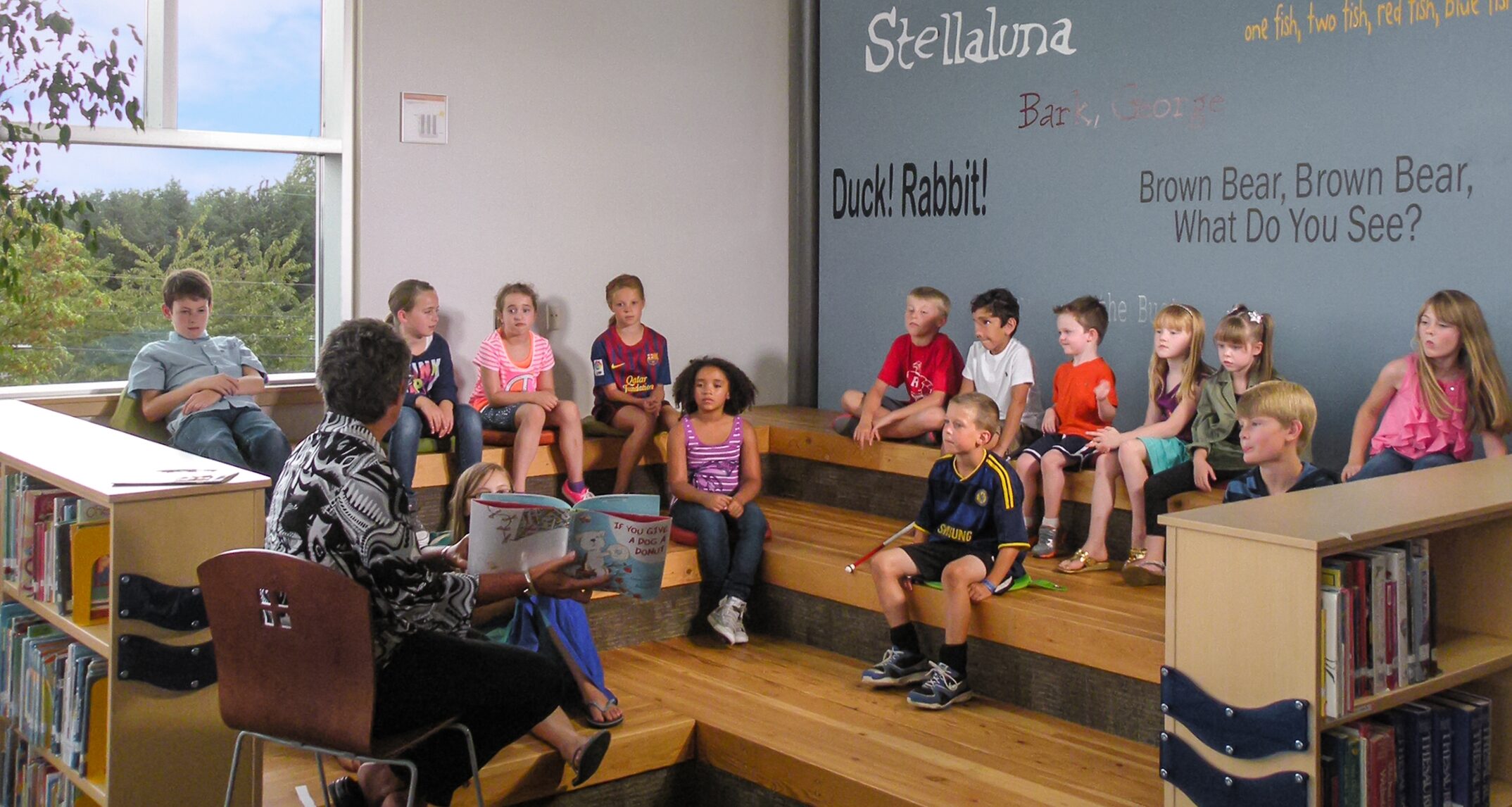 At Riverview Elementary, the group reading area in the library is used by the ELC and parents or senior citizens volunteer to read to early learners. – NAC
The three "S's"… Safety, Security and Scale. ELCs must instill the foundational knowledge that schools are safe and secure places by creating warm, cozy spaces in addition to group activity areas. Within a stable environment, the students will be able to flourish without inhibiting emotions such as fear or uncertainty, interfering with their education. Since these students are not yet literate, the building design must speak to them and assure them these spaces are truly made for them to grow, learn and succeed.
Summary
Early learning is a big deal! There are only 2,000 days between when a child is born and when they begin kindergarten. And as research shows, it is during this time that their most crucial development occurs, forming a solid foundation for the years that follow. Our brains are built based on the environment in which we grow up, and quality learning experiences that begin at birth are the key to a child's success later in life. At NAC, we understand that a well-designed physical environment is a critical component to realizing the full benefits of early learning programming. Whether it's strategic placement of windows and fixtures at a child's level, interactive sensory furnishings that encourage cognitive social development, or the integration of the classroom with outdoor play space that sparks curiosity about nature, we are dedicated to creating enriching environments that support each child's development, instills a sense of safety and security, and is warm and welcoming for the families they serve.
References
1 Center on the Developing Child at Harvard University (2016). From Best Practices to Breakthrough Impacts: A Science-Based Approach to Building a More Promising Future for Young Children and Families. http://www.developingchild.harvard.edu
2 First 5 California. (n.d.). Child's Brain Development. Retrieved September 25, 2017, from First 5 California: http://www.developingchild.harvard.edu
3 Jones D. E., Greenberg M., Crowley M. (2015). Early social-emotional functioning and public health: The relationship between kindergarten social competence and future wellness. American Journal of Public Health, 105(11), 2283–2290.
4 Schweinhart, L. J., & Weikart, D. P. (1993). Success by Empowerment: The High/Scope Perry Preschool Study through Age 27. Young Children, 49(1), 54-58.
5 Jones D. E., Greenberg M., Crowley M. (2015). Early social-emotional functioning and public health: The relationship between kindergarten social competence and future wellness. American Journal of Public Health, 105(11), 2283–2290.
---